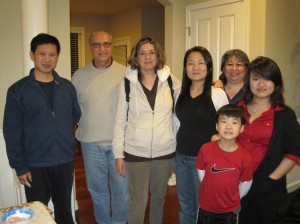 I came to learn about Tai Chi Chuan quite by accident in late 2003 when I attended an Open House at Master Yang Jun's school in Redmond, and saw the students and the Master perform.  I had been attracted to martial arts all my life but found many of the wonderful arts that I encountered lacking in beauty and power; they are wonderful in their own ways, just not in ways that interest me.  At the Open House, thinking to myself "Where has this been all my life??", I signed up for classes and even won a school t-shirt that day!  I knew my search for a great martial art had come to an end.
In the years since, I have made many friends, learned the long, the short, and the weapons forms, and push hands.  I have proudly participated in many school demos.  Little by little, I have come to glimpse more and more of the mystery of how to become "relaxed" (Fang Song), how to "sink my Chi", and to internalize and apply the 10 Principles, all things that us Westerners typically have a lot of trouble grasping.  Although I see the proverbial Light At The End Of The Tunnel, I am still working at it.  One day it will all click together in my head.  But I have to "eat bitter" first.  I like to think that I have made some progress in the art and have learned enough to know that I really know very little. The hunger for this specialized, ancient and wonderful knowledge remains, however.
More recently, Master Yang Jun gave me the privilege to lead a group of extremely talented Martial Artists and long time students of his, Edward Moore, Eric Madsen, and Adam Batten, in putting together the first edition of the Yang Family Tai Chi Chuan Association's Student Handbook, with the collaboration of many people from schools from around the country and the world.  This Handbook is a much needed resource for all school and Association members, new and old.  I am glad I had the opportunity to work on it.
It never was my intention to cut my learning from the Master short (are 8 years "short"?? You bet!  Tai Chi Chuan is the pinnacle of the internal Martial Arts, and by definition, it is interminable!), but life has a way of telling us things that are not always clear.  However through the years that I have been a student of Tai Chi Chuan, I have come to realize that, however unclear everything else may be, this art is a constant.  I consider myself extremely lucky in my life, and through the last 8 years, I have had both great times and very trying times.  Through it all, Tai Chi Chuan has helped me maintain my balance and my health.
My dear wife Pam and I are going to Omaha, Nebraska, following a new opportunity. Tai Chi Chuan schools there seem to be few and far between, so this art that I have learned from Master Yang Jun, I will carry with me, and almost surely I will find a way to make it more popular there, but with the Yang family's particular bent and emphasis.  I am aware that there are Yang style Tai Chi Chuan enthusiasts in Omaha, the level of whom I have yet to ascertain.  Who knows?  There are bound to be players far better than me in Omaha.  I will try to show them what I know and perhaps I can learn something from them as well!  I know World Tai Chi Day is coming up (April 30), so that will give me a chance to meet many great people very soon!
I leave Seattle not because I want to, but because life is showing me a different path.  Whatever I do, I have to find my balance, and it seems to be in Omaha, at least for now.
This is not a "farewell"; it is only a "good bye for now", as I still have roots in Seattle; I have business and family here, so I will be coming back to the Northwest quite regularly, once a year at the very least.  I will be sure to stop by the school to say Hello and practice a little bit.  And, thanks to the Internet, I can still collaborate in making improvements to, and creating future editions of, the Student Handbook.
Thank you, Master Yang Jun, for sharing your family's treasure with so many of us.  I am indebted to you.
杨老師再见。 — Yang lǎo shī zài jiàn. — Teacher Yang Jun, goodbye.
我的朋友,我希望很快再见到你。– Wŏ de péng you,wŏ xī wàng hĕn kuài zài jiàn dào nĭ. — My friends, I hope to see you again soon.