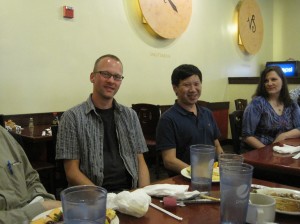 This year at August the 3rd there was a farewell dinner which gave me the opportunity to say goodbye to my new friends in America. I came last year in September to Seattle to study Tai chi chuan at the school of the Yang Family for some months. Master Yang Jun is an awesome teacher and a kind person too. It was a great time for me to learn in his school. I want to say thank you to him, his wife Fang Hong and the other instructors for their kindness, patience and many helpful corrections.
Also it was wonderful to make new friends and practice with them together. Especially the push hands practice with Adam Batten, Eric Madsen and Edward Moore was a great experience for me. The time went by very fast. Now I want to say goodbye and thank you very much for teaching, good practice and friendship. I just can recommend everyone to come to the Seattle area and visit the school of the Yang Family. I'm sure you will have a good time.
Norbert Laeken
See more pictures here.